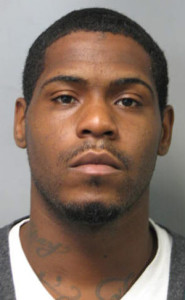 DOVER, DELAWARE (3/27/2015) A 27-year-old man was arrested after he fled when Dover police approached him, authorities reported today.
The incident happened about 4:35 a.m. Friday in the first block of N. Governors Ave.
Thomas Clark, of Dover, was captured after a lengthy foot pursuit, Cpl. Mark Hoffman said.
Officers saw Clark drop something as he ran, and later found a Glock 9 mm handgun loaded with 13 rounds of ammunition and an obliterated serial number, Hoffman said.
Clark, of the 200 block of Mary St., was charged with possession of a firearm with altered/obliterated serial number, possession of a deadly weapon by a person prohibited due to a previous felony conviction and resisting arrest.
He was being held at Vaughn Correctional Center in lieu of $10,500 cash bail.