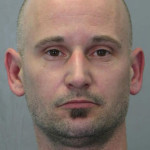 SMYRNA, DELAWARE (3/23/2015) A 40-year-old Felton man was charged with stealing $4,600 worth of jewelry from a home where he was working, Smyrna police reported today.
The homeowner in the 600 block of Dairy Drive discovered several pieces of jewelry missing on March 1 and contacted police.
Officers were able to recover one piece of jewelry that had been pawned by Jaime Twaddell, leading to his arrest on March 16, Cpl. Brandon L. Dunning said.
Twaddell was charged with theft $1,500 or greater and released on $1,500 unsecured bond.
Dunning said several other pieces of jewelry were found in Twaddell's possession that had not been taken from the Smyrna home, and he asked anyone who had been in contact with Twaddell and is missing jewelry to contact Detective Eric Cooper at 302-653-9217.