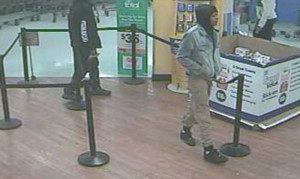 NEW CASTLE, DELAWARE (3/22/2015) Two suspects are being sought in connection with an attempted robbery inside the Walmart on Wilton Boulevard near New Castle and an assault on a customer outside the store, state police said today.
The incident happened about 6:30 p.m. Friday at Wilton Boulevard and U.S. 40, just west of the U.S. 13/40 split.
A 52-year-old Newark man was filling out paperwork in the customer service area and placed his wallet on the counter. A man approached from behind and attempted to take the wallet but the Newark man grabbed it first, police said.
A second male then approached and demanded the wallet but the Newark man refused and he was pushed to the ground by the first man.
As the Newark man stood up, the first man attempted to assault him but another customer, a 51-year-old man from Bear, pushed a shopping cart in between them. The two suspects then left the store without the wallet, police said.
After the 51-year-old left the store, the pair assaulted him as he approached his car, police said. One of the attackers displayed a handgun. The pair then left the parking lot in a dark vehicle.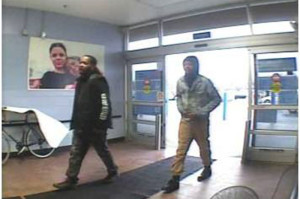 Neither victim was injured, police said.
Police said one of the suspects was later identified as Aaron C. Lomax, Jr., 32, of the 2200 block of N. Monroe St. in Wilmington. Troopers obtained warrants charging him with attempted robbery, aggravated menacing, terroristic threatening and offensive touching.
The second suspect is described as a black male, 16-20 years old and about 5-feet-11. He was wearing a blue jean jacket with a black hooded sweatshirt underneath, tan pants and black sneakers.
Police asked anyone with information on Lomax or the other suspect to contact Cpl. Greg Rash at 302-834-2620.
Tips also may be submitted anonymously through Delaware Crime Stoppers, which offers rewards, at 800-847-3333 or www.tipsubmit.com.