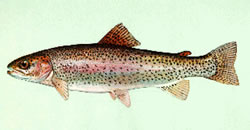 DOVER (3/20/2015) Delaware's spring 2015 upstate trout season will open at 7:30 a.m. Saturday, April 4.
Portions of six designated trout streams in northern New Castle County – White Clay Creek, Christina Creek, Pike Creek, Beaver Run, Wilson Run and Mill Creek – will be stocked with thousands of rainbow and brown trout, including some trophy-sized fish, officials of the state Division of Fish and Wildlife announced.
The designated trout streams are closed to all fishing two weeks prior to opening day, with the closure starting Saturday. Following opening day, trout stocking will continue weekly through April 30.
Downstate trout season opened March 14 at Tidbury Pond in Dover and Newton Pond near Greenwood.
Trout are a cold water species and survive only while water temperatures in the ponds remain cool, officials said, encouraging anglers to keep their catch.
Anglers must purchase a Delaware recreational fishing license and trout stamp, with the exception of anglers younger than 12 and resident anglers 65 and older. Those excluded may still voluntarily purchase a license and stamp to support fishing programs. Trout stamp proceeds are used to buy fish for stocking.
Anglers age 16 and older also are required to obtain a Delaware Fisherman Information Network number.
A trout stamp is not needed after April 8 at Tidbury Pond and Newton Pond or after June 30 in trout streams.
Trout stocking also is supported by Federal Aid in Sport Fish Restoration funds generated from anglers purchasing fishing equipment.
Delaware fishing licenses are sold online, at the licensing office in DNREC's Richardson & Robbins Building, 89 Kings Highway, Dover, and by license agents statewide.