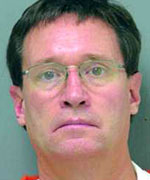 GEORGETOWN, DELAWARE (3/18/2015) Eric Bodenweiser's plea bargain today means he will be classified as a sex offender, the state Department of Justice says.
Bodenweiser, 56, of Georgetown, entered a no-contest plea to two counts of third-degree unlawful sexual contact in Sussex County Superior Court.
The plea resolves a case that brought a mistrial last June after the jury could not reach agreement on a verdict. Without it, Bodenweiser would have faced a second trial on charges he sexually abused a boy under 16 years old between 1987 and 1990.
After he was charged in 2012, Bodenweiser, who had won a Republican primary for state Senate, withdrew from the race before the general election.
Sentencing is set for May 22.
According to a Department of Justice news release, the victim said, "I'm glad that this has finally come to an end and I can finally move forward and get on with my life."
Deputy Attorneys General David Hume and John Donahue prosecuted the case.