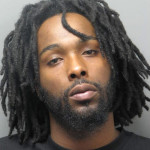 MILFORD, DELAWARE (3/6/2015) A Milford man and woman were arrested on drug charges following a two-month investigation, city police reported Thursday.
Turrell D. Bowe, 23, and Kerrian R. Taylor, 20, were both charged with possession of marijuana, possession with intent to deliver marijuana, possession of drug paraphernalia and conspiracy.
Lt. Dwight Young said detectives seized 3 ounces of marijuana and several hundred dollars cash when their home was searched.
Both were released on $10,000 unsecured bond.