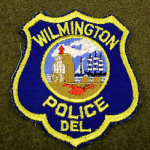 WILMINGTON, DELAWARE (2/26/2015) A 15-year-old Wilmington boy was arrested after he ran from officers following a short chase in a stolen car, city police said today. A stolen gun was found in the car.
The incident happened just before 9 p.m. Wednesday when Patrolman Nicholas Kroll tried to stop a Nissan Sentra for traffic violations in the 1200 block of Elm St.
The car kept going, with the officers in pursuit, into the 1300 block of Chestnut St., where it stopped abruptly and the occupants fled on foot.
Kroll and another officer with a K-9 tracked the 15-year-old, who they identified as the driver of the car, to an alley in the 300 block of S. Connell St., police said. He was taken into custody without incident.
The car had been stolen in Wilmington and a Colt .380 handgun had been stolen from Avondale, Pa. Police also found a pellet gun.
The boy was charged with several firearm counts, receiving stolen property, resisting arrest and related offenses.
He was being held at the New Castle County Detention Center in lieu of $22,000 secured bail.