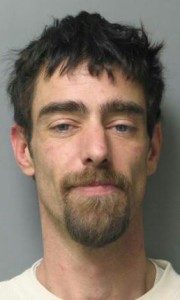 REHOBOTH BEACH, DELAWARE (2/26/2015) A Lewes man was arrested Wednesday in connection with multiple burglaries, Rehoboth police said.
Peter E. Hodge, 33, removed property including firearmns, electronics, clothing and collectibles in the thefts from May of last year through January, police said.
He was charged with three counts of burglary, two of theft of a firearm, two of conspiracy and two of theft under $1,500 from a senior, one of theft under $1,500 and four counts of criminal mischief.
State police assisted in the arrest.
Rehoboth police said additional arrests are expected and asked anyone with information to call Detective Tyler Whitman at 302-227-2577
Hodge is being held at Sussex Correctional Institution in lieu of $45,000 cash bond.