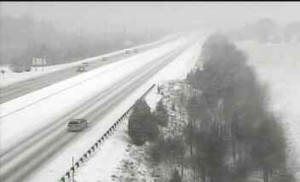 DELAWARE (2/25/2015) With more than six inches of snow dumped on Delaware by the latest storm, residents can now bundle up for a few more nights of deep freeze.
The temperature is expected to be in the upper teens tonight and down to 10 degrees Friday night in northern Delaware, according to the National Weather Service.
Some light snow with little accumulation may come late tonight, and there's a chance for more snow or a wintry mix on Sunday.
The weather service reported 6.6 inches of snow at Frankford, 6 at Selbyville, 4.3 at Milton, 4.1 at Frederica, 2.7 at Dover, 1.4 at Blackbird and about a half an inch across northern New Castle County.
This morning's snowfall slowed motorists and numerous accidents were reported.
About 9:40 a.m., DelDOT reported a crash with a pole and wires down closed the intersection of Ponder, Jefferson and Clendaniel Pond roads southeast of Lincoln.
The Delaware Electric Cooperative reports 195 members in the area lost power, but all have had service restored.
The speed limit on Interstate 495 was reduced to 55 mph.
The Cape May Lewes Ferry, which had canceled numerous trips this week due to ice problems, says it is operating on a normal schedule today.
The University of Delaware's sites at the Delaware Technical Community College campuses in Georgetown and Dover will open at 10 a.m.
UD's Carvel Research and Education Center in Georgetown will be closed today.
Delaware snow closing many schools