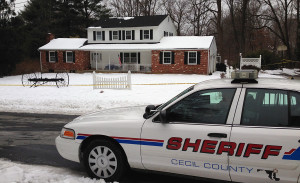 ELKTON, MARYLAND (2/25/2015) Two people found dead inside a home in the Glen Farms community a half mile from the Delaware state line were an elderly couple, according to reports from the scene this morning.
The Cecil County Sheriff's Office says deputies were called to the home in the 100 block of West Parkway, northeast of Elkton, about 1:25 p.m.
After talking with a person who had reported suspicious circumstances at the home, deputies entered and found the two victims inside.
In a news release, the Sheriff's Office says the investigation is being handled as a homicide but released no details on the victims.
Anyone with information is asked to call Detective Chris Lewis at 410-392-2111 or Crime Stoppers at 866-7LOCKUP.