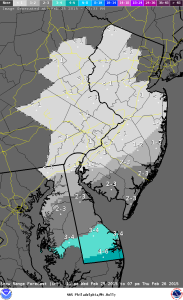 DELAWARE (2/25/2015) A storm late tonight through Thursday morning may bring up to 6 inches of snowfall in southern Delaware but only an inch or less at the top of the First State, National Weather Service forecasters say.
The latest predictions call for 3 to 6 inches in Sussex County and 2 to 3 in Kent County as a storm moves up from the Gulf Coast.
Today's sunny skies brought a high of 37 degrees at New Castle Airport and 38 degrees at Sussex County Airport. Tonight's low is predicted to be in the upper teens upstate and the low 20s downstate. Similar low temperatures will continue through the week.
There's another chance of snow on Sunday, but little or no accumulation is expected.