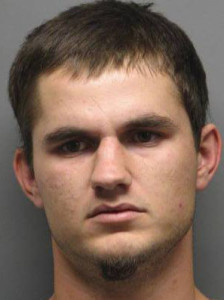 MILFORD, DELAWARE (2/17/2015) An Ellendale man was arrested Tuesday in connection with a home invasion that left an elderly woman tied up more than 12 hours northwest of Milford, state police said.
The crime happened about 3 a.m. Monday in the 6000 block of Melody Lane.
A man later identified as 26-year-old Dustin Niebert entered the home of a 91-year-old woman while she was sleeping, tied her up and then took jewelry and cash before fleeing in her car, which was abandoned nearby, police said.
A family member concerned after not being able to reach the woman by phone arrived at the home about 3:30 p.m. and found her still tied up in the bedroom.
She was taken to a hospital for treatment of injuries not considered life-threatening, police said.
Niebert was arrested by state troopers about 2:30 p.m. Tuesday in Milford after numerous tips to police and Crime Stoppers.
He was charged with robbery, home invasion, assault, theft with the victim over age 62 and unlawful imprisonment. He also was charged on a shoplifting warrant from Milford police and on another warrant from Kent County Superior Court.
Niebert was being held at Vaughn Correctional Center in lieu of $10,500 cash bail