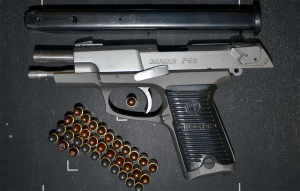 WILMINGTON, DELAWARE (2/13/2015) A 17-year-old boy was arrested after officers found him with a loaded semi-automatic handgun that had been reported stolen in Pennsylvania, Wilmington police reported today.
The boy was arrested Thursday at his home in the 400 block of N. Madison St. by city officers and others from the Juvenile Probation Office.
The gun seized was a 9 mm Ruger P89  with 33 rounds of ammunition in an extended magazine and one round in the chamber, police said.
The teen was charged with possession of a firearm and ammunition by a person prohibited and possession of a stolen firearm.
He was being held at the New Castle County Detention Center in lieu of $15,000 cash bail.
 15-year-old Wilmington boy charged in Bear shooting