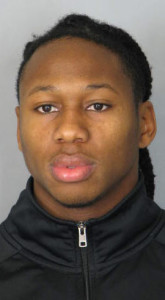 NEWARK, DELAWARE (2/9/2015) A University of Delaware football player has been charged with assaulting three students after they asked him to leave a party, dislocating the top front teeth of one of the victims, Newark police reported today.
Roman Tatum, 21, a sophomore from Winter Garden, Florida, was released after posting $1,100 secured bond, Cpl. James Spadola said.
The incident happened about 11:30 p.m. Saturday at an apartment complex at 10 Center St., where a large fight was reported.
When officers arrived, there was a large crowd but Tatum had left the area. He surrendered to police the next day to face the assault charges as well as counts of criminal trespass and criminal mischief, Spadola.
The victims were all males, two of them age 20 and the other age 22. The 20-year-olds had minor injuries and the older man had his top front teeth dislocated, Spadola said.
A defensive back, Tatum is a second-year member of the Blue Hens.