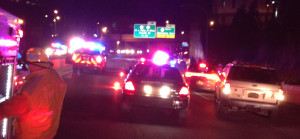 WILMINGTON, DELAWARE (2/3/2015) State police today identified the pedestrian killed on I-95 over the weekend.
Michael Ewell, 44, of Wilmington, was killed near Delaware Avenue on Saturday.
Investigators have also learned that a fifth vehicle, a 2007 Acura MDX, which was being operated by Juan A. Delgado,38, of New Castle, also struck the victim at some point, Master Cpl. Jeffrey Hale said.
Delgado, who did not stop at the scene, contacted investigators the following day.
The investigation is continuing but Hale said no charges are expected.