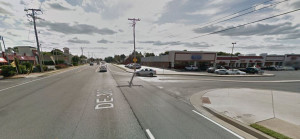 SMYRNA, DELAWARE (2/2/2015) The proposed installation of a traffic signal on Glenwood Avenue just west of U.S. 13 in Smyrna is facing opposition from the town's police department.
A public workshop on the proposed light and other safety improvements for the area is scheduled to be held from 4 p.m. to 7 p.m. Wednesday at North Elementary School, 365 N. Main St. in Smyrna, the Delaware Department of Transportation says.
The light would be at the west entrance to the Smyrna Mart shopping center, often a place with busy traffic making for difficult left turns onto Glenwood Avenue (Route 300) for those exiting the center.
Police posted opposition to the plan on their Facebook page without giving any details, saying they would be at the workshop.
DelDOT says the work would include revisions to additional access points on Glenwood Avenue as well as putting new asphalt on the roadway and new signs and striping. Delays during construction are expected.
DelDOT says details will be available at the workshop.
Anyone wishing to express their views in writing may send to DelDOT Public Relations P.O. Box 778, Dover, DE 19903 or via email to dotpr@state.de.us.