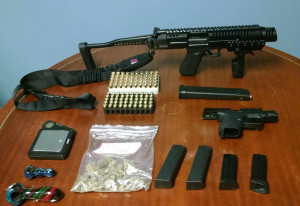 ELSMERE, DELAWARE (2/1/2015) Two guns and drugs were seized and a 30-year-old Elsmere man was arrested on Saturday, town police said.
Jonathan Rosario, of the 200 block of Birch Ave., was arrested at his home after a three-month drug investigation, Police Chief Laura Giles said.
He was awaiting arraignment on charges of possession of weapons by a person prohibited, possession of marijuana and possession of drug paraphernalia.
She said police seized a Glock 17 handgun with carbine conversion kit, a Smith & Wesson M&P 9 mm handgun, 150 rounds of ammunition, 19 grams of marijuana and drug paraphernalia.