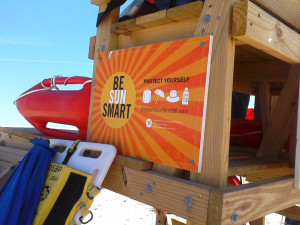 DOVER, DELAWARE (1/12/2015) Banner airplanes carrying advertising messages above Delaware's oceanfront beaches will have some on-the-ground competition again this year.
Delaware State Parks announced today that advertising space will again be sold on the lifeguard stands at Cape Henlopen's main beach bathhouse, Tower Road beach, Delaware Seashore State Park beaches and Fenwick Island's State Line beach.
The advertising program began last year.
"Delaware State Parks are primarily self-funded, collecting roughly 65 percent of their operating expenses from fees and other funding opportunities like the lifeguard stand advertising program," says Delaware State Parks Director Ray Bivens. "This advertising program was very successful last year, and local business owners are already inquiring about participating this year."
More than 2.3 million people visit the state park ocean beaches each summer, officials said.
Anyone interested in the lifeguard stand advertising may contact Karen Minner at 302-739-9208 or email Karen.Minner@state.de.us, or visit  http://destateparks.com/.