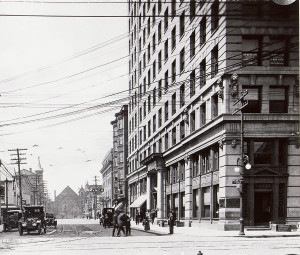 WILMINGTON, DELAWARE (12/22/2014) The DuPont Co. is moving its corporate headquarters to the suburban Chestnut Run Plaza campus, the company announced this morning, while a spin-off takes over the downtown Wilmington real estate.
The shift will take place July 1, " following a review of separation of assets and real estate associated with the separation of the company's Performance Chemicals segment, now named The Chemours Company," DuPont said in a news release. "The consolidation of DuPont corporate headquarters at Chestnut Run will optimize use of company facilities, support collaboration and improve efficiencies for both DuPont and Chemours."
DuPont employees who live outside the city will reap a bonus with the move, no longer being subject to the Wilmington wage tax.
The DuPont headquarters will be a short distance from where the company was founded in 1802 on the banks of the Brandywine River, the company said. DuPont has had a presence at Chestnut Run for more than 60 years. The DuPont Experimental Station and the company's Stine-Haskell Research Center, both world-class facilities, also are located in suburban New Castle County.
"For more than a century, we have been proud to call the city of Wilmington home," said DuPont Chairwoman and CEO Ellen J. Kullman. "Looking ahead, we concluded that a single location for our headquarters offices will help facilitate the close collaboration essential to our success and to the growth of DuPont. A consolidated headquarters at Chestnut Run where most of DuPont's businesses are headquartered will make it possible to draw on people and knowledge across the company even more dynamically, on a daily basis."
The Chemours Co., will assume ownership of the DuPont Building in Wilmington and its employees will relocate to the building by mid-2015. The move will bring Chemours employees together in one location. A final decision has not been made with respect to the ultimate headquarters location for Chemours.