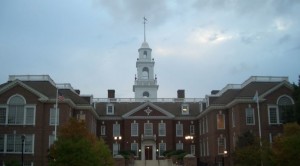 DOVER, DELAWARE (1/17/2017) Several street closures are in effect in Dover today in the area of Legislative Hall for the inauguration of John Carney as governor and Bethany Hall-Long as lieutenant governor.
No vehicles are allowed to park on Martin Luther King Jr. Boulevard north and south, Legislative Avenue, and Water Street from Federal Street to Legislative Avenue.
The boulevard is closed to traffic beginning at Capitol Drive, across from the Family Court building, to Federal Street.
Legislative Avenue is closed between Martin Luther King Boulevard north and south.
Federal Street will remain open from Water Street to Loockerman Street.
Those wishing to view the inauguration may park at the Blue Hen Corporate Center and board a shuttle bus, which will run between 10 a.m. and 2 p.m.
The road closures and parking restrictions will end after 2 p.m., officials of the Delaware Department of Transportation said.
In advance of the inauguration, Carney and Hall-Long will attend an interfaith prayer service at 9 a.m. at Whatcoat United Methodist Church, 341 Saulsbury Road in Dover.
At Legislative Hall, the prelude to the inauguration begins at 10:30 a.m., with introduction of platform guests at 10:45 a.m. and the ceremony beginning at 11 a.m.
Carney and Hall-Long will greet attendees in a receiving line from 12:30 p.m. to 2:30 p.m.
An inauguration celebration, for invited guests only, will be held from 7 p.m. to 10 p.m. at Dover Downs. The event is closed to the media.