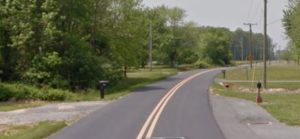 HOUSTON, DELAWARE (12/23/2016) A 20-year-old Harrington man was killed in a single-vehicle crash southwest of Houston on Thursday, the Delaware State Police reported this morning.
The crash happened about 5:45 p.m. on Williamsville Road.
Police said Samuel R. Ellers III was driving a 1997 Dodge Ram 1500 pickup truck westbound approaching Hunting Quarter Road when he failed to negotiate a moderate right curve.
The truck went off the south side of the road into a ditch, struck a culvert and went airborne into a mailbox.
The pickup then struck a tree with the driver's-side door and continued into another tree, also striking the driver's-side door.
The truck went back into the roadway, then came to a stop in a ditch on the south side.
Ellers was the only occupant of the pickup. He was pronounced dead at the scene.
Police said speed may have been a contributing factor in the crash.
Williamsville Road was closed in the area about three hours as police investigated the crash and the wreckage was cleared.