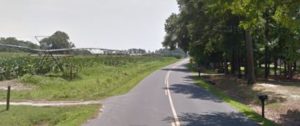 DELMAR, DELAWARE (4/19/2016) A 37-year-old Laurel man died after his car crashed and burst into flames northwest of Delmar, the Delaware State Police reported this morning.
The accident happened about 10 p.m. on Providence Church Road just north of Pine Branch Road.
The driver lost control of the northbound 2004 Mini Cooper as he entered a slight left curve and went off the east side of the road. The car struck a driveway culvert and went airborne, then striking a ditch embankment and a tree before spinning around and coming to a stop.
Shortly after coming to a stop, police said, the driver was pulled from the vehicle as it became engulfed in flames.
The driver was the only one in the car. He was taken by ambulance to Peninsula Regional Medical Center in Salisbury, Maryland, where he was pronounced dead.
The man's name was withheld by police pending notification of next-of-kin.
Police are still investigating the crash.
Providence Church Road was closed about 3½ hours.