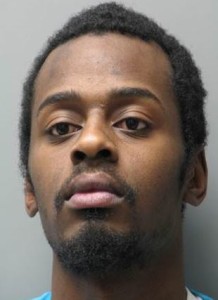 EDGEMOOR, DELAWARE (4/10/2016) Two New Castle County police officers were injured in a head-on crash with a stolen SUV that police had been pursuing, authorities said Saturday. A Smyrna man was arrested after the crash.
The incident began about 6:40 p.m. Friday when police on patrol on Salisbury Drive near North Stuyvesant Drive in Edgemoor saw a black Lincoln Navigator and determined it had been stolen from Wilmington.
Police stopped the SUV in the first block of Stuyvesant Drive, Cpl. Tom Jackson said, and as officers approached the SUV backed into a patrol vehicle, then drove forward across two lawns and went east on South Stuyvesant Drive.
Another officer saw the Navigator as it crossed Salisbury Drive and a pursuit began into the area of the Chemours Edge More plant, Jackson said.
The driver of the Navigator, later identified as Calvin Warren, 24, of Smyrna, made a U-turn and struck a private vehicle, then drove back toward pursuing officers at high speed, Jackson said.
The Navigator struck one officer's vehicle head-on and caused significant damage, Jackson said, then struck another police vehicle, ending the pursuit.
Warren was treated for injuries at Wilmington Hospital and released, Jackson said. The two officers involved were treated for injuries at the hospital and later released.
Warren was charged with second-degree assault, reckless endangering, receiving stolen property, resisting arrest with force, disregarding an officer's signal, third-degree vehicle assault, two counts of leaving the scene of an accident, reckless driving, two counts of malicious mischief by motor vehicle, driving with a suspended license, three counts of failing to stop at a stop sign, two counts of failure to use a turn signal, two counts of failure to obey a traffic control device, no proof of insurance and unsafe speed. He was being held at Young Correctional Institution in Wilmington in lieu of $28, 900 cash bail.