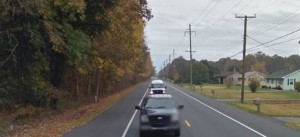 LAUREL, DELAWARE (3/23/2016) A 34-year-old man died when his minivan struck a tree along U.S. 9 (County Seat Highway) east of Laurel, the Delaware State Police reported this morning.
The crash happened about 9:40 p.m. Monday.
Police said Scot A. Adkins, of Delmar, was driving a 1995 Honda Odyssey westbound approaching Fire Tower road when the minivan crossed the eastbound lane and struck the tree with its left side for unknown reasons.
The Honda spun around and overturned, coming to rest in the middle of the road upright on its wheels.
Adkins was the only occupant of the vehicle. He was pronounced dead at the scene.
U.S. 9 was closed in the area for about 3½ hours.