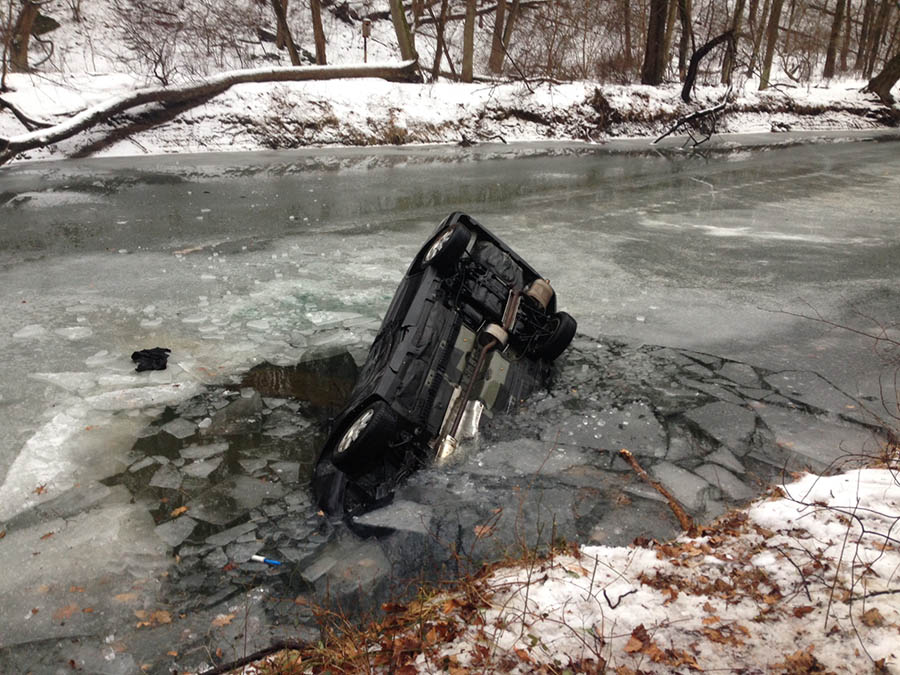 YORKLYN, DELAWARE (2/16/2016) An 18-year-old driver was rescued by Hockessin firefighters after her car  crashed into Red Clay Creek and overturned in Yorklyn this morning, according to reports from the scene.
The vehicle was reported upside-down in the water at 7:22 a.m. near Creek Road and the railroad crossing east of Snuff Mill Road.
Three Hockessin firefighters went into the water to extricate the woman, who was taken by ambulance to Christiana Hospital.
She was in serious but stable condition, said Sgt. Abigail E. Haas of New Castle County paramedics. The woman was treated by paramedics at the scene for a head injury and cold exposure, Haas said.
The creek is about 8 feet deep in the area but rocks kept the driver's side of the vehicle – and the woman's head – above water.
The three firefighters were evaluated at the scene for cold exposure but declined further treatment.
The vehicle went off the ice-slicked Creek Road and struck a tree before going into the creek.
The driver was the only occupant of the vehicle.
Cranston Heights Fire Company and the New Castle County Surface Water Rescue Team also responded.
Creek Road was closed in the area as the rescue was underway and the crash was investigated by Delaware State Police.