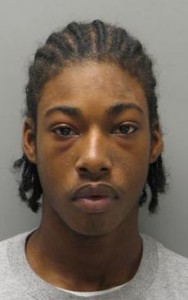 WILMINGTON, DELAWARE (8/3/2015) A Wilmington police officer was injured Sunday when a gun suspect kicked the officer's hand into a door handle of the patrol vehicle, authorities said today.
The incident happened in the 1100 block of Kirkwood St. as police were responding to a complaint of shots fired.
As officers interviewed three males, a handgun was spotted nearby in the grass.
As police escorted one of the suspects, Robert Dunnum, 20, of Wilmington, to a vehicle he began to struggle, police said, and kicked the officer's hand, fracturing it and causing damage to the vehicle.
Officers were able to get control of Dunnum and he was charged with possession of a firearm by a person prohibited, receiving a stolen firearm, second-degree assault of a law enforcement officer, resisting arrest with force, possession of a weapon in a safe school zone and criminal mischief. He was awaiting arraignment.
The officer, whose name was not released, was treated at Wilmington Hospital and released, police said.
*