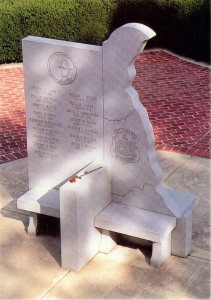 DELAWARE (5/6/2015) Police Memorial Day ceremonies were scheduled today to honor officers killed in the line of duty.
The New Castle County Police Department ceremony was held at 8:30 a.m. at headquarters on U.S. 13 in Minquadale.
Speakers were to be County Executive Thomas Gordon, Co.l E. M. Setting and FOP Lodge 5 President Michael Zielinski. The New Castle County Police Color Guard, New Castle County Pipes and Drums, and members of the Department of Public Safety were to be in attendance.
The ceremony honors the fallen with a wreath presentation by family members and officers in front of headquarters where a memorial stands.
At 9:30 a.m., Delaware State Police were holding a memorial ceremony in front of the training academy at the DSP headquarters complex on U.S. 13 in Dover.
A wreath was to be laid in front of a seven-foot granite monument cut in the shape of the state. Surviving family members will then place a carnation in a bouquet in remembrance of the deceased family member.
Twenty three troopers have lost their lives in the line of duty since 1923.
Attorney General Matthew Denn; Secretary Lewis D. Schiliro of the Department of Safety and Homeland Security; Col. Nathaniel McQueen Jr., superintendent of the Delaware State Police; Lt. Thomas Brackin, president of the Delaware State Police Troopers Association; and Mrs. Eleanor Allione (C.O.P.S) were scheduled to speak.