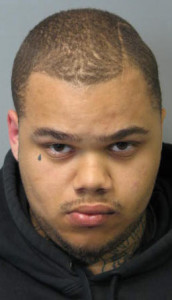 DOVER, DELAWARE (3/31/2015) A 23-year-old burglary suspect was arrested with a stolen handgun after a traffic stop near Queen and Cecil streets, Dover police said Monday.
Emilio Freeman, of Darby, Pennsylvana, was charged with receiving a stolen firearm, carrying a concealed deadly weapon, possession of a firearm and ammunition by a person prohibited.
After his arrest about 11 p.m. Friday, Freeman was found to be wanted on a warrant for burglary from Delaware State Police, Cpl. Mark Hoffman said.
A .40 caliber Glock handgun found where Freeman was seated had been stolen three days earlier from a vehicle in the Dover area, Hoffman said.
Freeman was being held at Vaughn Correctional Center near Smyrna in lieu of $20,000 secure bond.