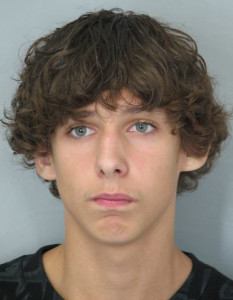 BETHEL, DELAWARE (3/28/2015) A 21-year-old Laurel man was arrested on drug and gun charges after a trooper stopped his SUV near Bethel for making an illegal U-turn, state police reported today.
The incident happened about 1:20 p.m. on Bethel Road near Woodland Ferry Road when the trooper heard a loud muffler on an eastbound white Jeep. As the trooper followed the SUV, the driver made a sudden U-turn in the middle of the intersection, police said, and the trooper conducted a traffic stop.
The trooper then spotted several knives inside of the vehicle as well as inside the wallet of the driver, Garrett L. Hill, as he was producing his identification, police said.
A pat-down search found two more knives on Hill, police said, and a search of the Jeep found a loaded SAR 9 mm handgun between the driver's seat and center console as well as a digital scale, marijuana and rolling papers.
Hill was charged with carrying a concealed deadly weapon, possession of marijuana, two counts of possession of drug paraphernalia and improper turning of a vehicle within an intersection. He was released on $6,050 unsecured bail.