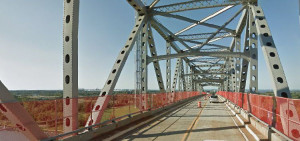 DELAWARE CITY, DELAWARE (3/27/2015) Traffic on the Reedy Point Bridge south of Delaware City will be restricted to a single lane for the month of April.
The U.S. Army Corps of Engineers says the lane closure is needed to enable replacement of a fence over the bridge.
The Corps expects the one-lane restriction to begin Wednesday and remain in effect until about May 1. Traffic will be controlled by portable signals at each end of the lane that remains open.
The bridge carries Route 9 over the Chesapeake & Delaware Canal.