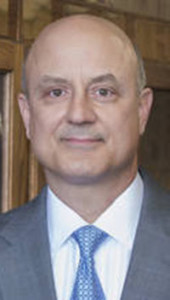 DOVER, DELAWARE (3/17/2015) A Navy veteran will be Wesley College's next president, taking the helm July 15.
The college Board of Trustees announced the appointment of Robert E. Clark II on Monday, saying he has more than 30 years of leadership experience, most recently at Pennsylvania State University.
Clark will be the college's 17th president, succeeding Dr. William N. Johnston, who is retiring after seven years.
The board said applications were received from 109 candidates and many were interviewed.
"Mr. Clark's innovative and collaborative leadership style is the perfect fit for Wesley College at this time in Wesley's history," said Robert V.A. Harra, Jr., board chairman and co-chair of the search committee. "We welcome Bob and Ruth Ann Clark to Wesley and to Delaware."
Clark is the former Commandant of Midshipmen at the U.S. Naval Academy and is retiring from the Navy this summer.  He also served as commanding officer of the nuclear powered submarine USS Connecticut (SSN 22); commodore of Submarine Squadron Four; and joint service coordinator for Pennsylvania State University. While at Penn State, Clark served on the university's Undergraduate Education Leadership Council.