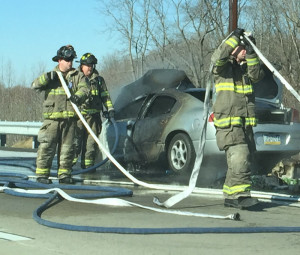 SMYRNA, DELAWARE (2/13/2015) A car fire shut all northbound lanes of Route 1 near the North Smyrna exit for about 25 minutes early this afternoon.
Citizens Hose Company of Smyrna was called to the scene at 12:40 p.m. to extinguish the fire.
State police and DelDOT crews also were on the scene.
Traffic was backed up for more than a mile about 1 p.m., according to reports from the scene. The left lane was reopened about 1:05 p.m. and both lanes were open after the wreckage was cleared.