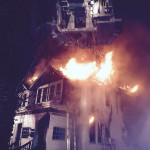 WILMINGTON, DELAWARE (2/9/2015) One man died after fire swept through a line of century-old row homes in the 3900 block of N. Market St. tonight, the just outside city limits.
Two others were taken to a hospital in stable condition, authorities said.
Firefighters from Brandywine Hundred, Talleyville and numerous other companies fought the two-alarm blaze, which was declared under control at 10:10 p.m.
The fire affected four homes – 3900, 3902, 3904 and 3906 N. Market – in the Pennrose community on the east side of the street, which is the city line. The one at 3900 is divided into apartments.
Firefighters were called out at 7:30 p.m. and rescued a 52-year-old man from a first-floor apartment, said Cpl. Abigail Haas of New Castle County paramedics. He was treated on the scene for smoke inhalation and burns and then taken by ambulance to Christiana Hospital in Stanton.
He died there shortly after 10 p.m., said Michael Chionchio, assistant state fire marshal.The Division of Forensic Science will conduct an autopsy.
He said the occupant of the second-floor apartment was able to escape.
A 54-year-old woman from another home was treated by paramedics for difficulty breathing and taken to Wilmington Hospital in stable condition, Haas said.
Another person also was taken to Wilmington Hospital in stable condition, she said.
A 9-year-old girl was evaluated at the scene by paramedics but declined further treatment.
The state Fire Marshal's Office is on the scene trying to determine how the fire started.
Damage was estimated at $400,000, Chionchio said.
The American Red Cross is assisting displaced residents.
According to New Castle County records, three of the two-story row homes were built in 1910 and the other in 1925. The one at 3900 N. Market was divided into apartments.